Thompson named athlete of the week
Sports | Published on March 21, 2023 at 8:08pm GMT+0000 | Author: Tucker Henderson
0
NYM native is an outfielder at CSB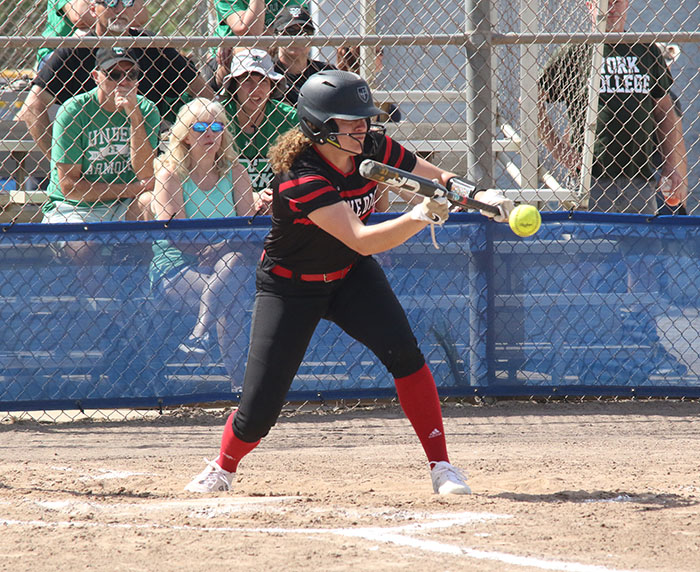 By Chad Koenen
Publisher
New York Mills alum Tiffany Thompson was named as the Minnesota Intercollegiate Athletic Conference (MIAC) Player of the Week. The daughter of Darin and Wanda Thompson is a junior outfielder for the College of Saint Benedict softball team. She recently hit .440 and helped the Bennies jump out to a 9-1 start to their season.
The NY Mills native is majoring in elementary education and has enjoyed her time playing on the College of Saint Benedict softball team. She said that "it's just a fun environment. It is NY Mills in a nutshell," and her teammates remind her of the teammates she had while she attended high school.
This is the first time that Thompson earned the MIAC honor and is the 18th CSB student-athlete honored by the MIAC as softball Athlete of the Week. In fact, CSB swept the MIAC honors for the first time since Feb. 28, 2022 (Gabby Spencer, Elly Novak) as Bennies' senior pitcher Elly Novak was named MIAC Pitcher of the Week. 
In a recent stretch of games in Kissimmee, Fla., Thompson hit .440 with a team-high 10 RBI to lead the Bennies to a 9-1 record, including wins over NFCA nationally ranked teams No. 6 Belhaven and No. 21 Rochester.
Thompson, who had a 1.100 OPS, registered a .600 slugging mark and .500 OBP. In 25 at bats, she had a team-best 11 hits with four doubles while recording three multi-hit games and two multi-RBI contests. She had RBI in 8-of-10 games and stole three bases in five games.
In a 5-2 win against No. 6 Belhaven, she had a hit, run scored and RBI. An elementary education major from New York Mills, Minn., also had a season-high three hits in three at bats in the 5-4 victory over Illinois College when she had two RBI and a run scored. She also had multi-hit games in the 7-0 decision over Misericordia and a 12-4 extra innings win over York (Pa.).
Thompson is a 2020 graduate of New York Mills High School and was a member of the 2017 and 2018 state championship softball teams. She was named to the all-state tournament team in 2018 and 2019, received all-state first-team honors in 2019, all-state academic honors in 2020 and was the team MVP and MVP pitcher in 2019.