Astera Health celebrates grand opening ceremony 
News | Published on March 29, 2023 at 12:14am GMT+0000 | Author: Chad Koenen
0
On March 18, Astera Health, formerly Tri-County Health Care, celebrated a much-anticipated grand opening. The new $72 million facility is the culmination of over two years of construction on the western edge of Wadena, along HWY-10. Astera Health hosted a groundbreaking event in May 2021. Since then, Mortenson Construction has completed the structure in phases, with much of the exterior work completed in the summer of 2022.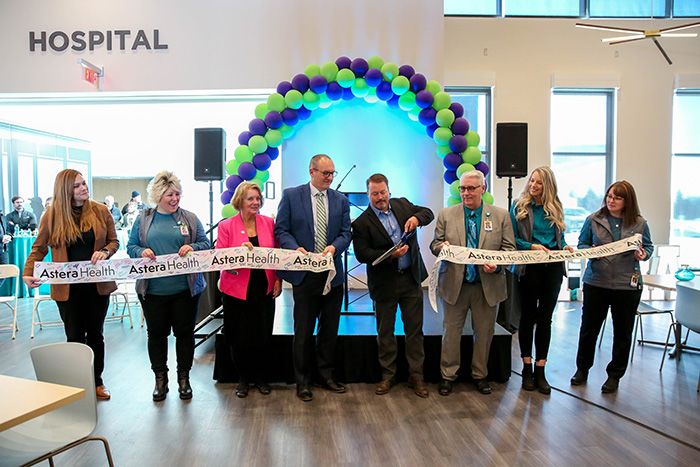 The grand opening started with a ribbon-cutting ceremony with Astera Health leadership and staff members. President & CEO Joel Beiswenger took to the stage to share some heartfelt words about the entire process.
"This as a facility is a great leap forward for us and the communities and as an organization, and it is our privilege and honor and humility to get to show it to you," said Beiswenger. He then offered thanks to all involved parties for the conception and planning of the new building. 
Additionally, Colleen Landkamer, Minnesota Director of the United States Department of Agriculture, spoke of the importance of the new facility to the surrounding region. She explained why infrastructure projects supporting rural communities are critical for the USDA.
"This is what makes a community thrive and grow," said Landkamer.
The morning festivities ended with a ribbon cutting. With one swift action, the new Astera Health Campus was finally open. After, members of the public were invited to tour the new facility. Each tour was punctuated with interesting facts about the construction and presentation of the new building. Attendees could see the new building's laboratory, rehab, clinic, and several other areas. 
Astera Health staff moved office supplies and medical equipment from March 20-23. ReadyCare saw patients at the new campus on Thursday, March 23, beginning at 9 a.m. The Emergency Room saw its first patients the same day at 10 a.m. All other services at the new campus started on Friday, March 24, with regular hours of operation.
For more information about Astera Health and upcoming events, visit www.asterahealth.org.