Gibb's #10 Sales puts a focus on customer service
News | Published on March 29, 2023 at 12:12am GMT+0000 | Author: Chad Koenen
0
By Chad Koenen
Publisher
Purchasing a vehicle can oftentimes seem like a daunting task. What with the endless amounts of colors, sizes, shapes,  brands and all. But Gary and Melissa Wegscheid, as well as Julius Aho at Gibb's #10 Sales in New York Mills, are here to make the car buying experience not only easier, but enjoyable.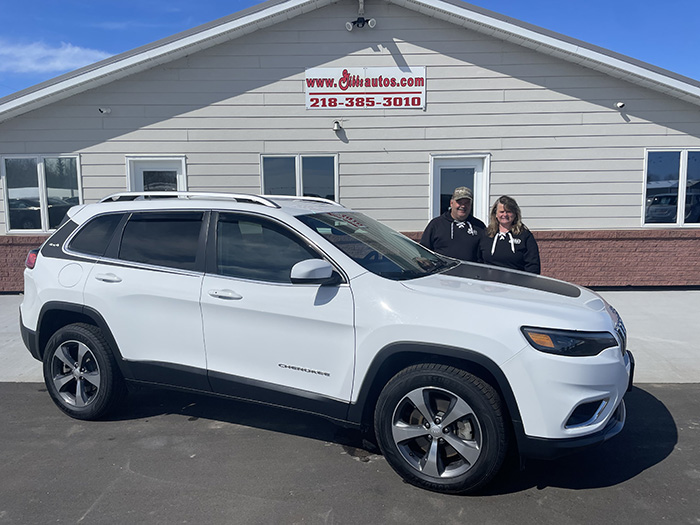 After all, when a car business has been around for well over 30 years, you get to know the community, people and how to find that perfect vehicle for just about anyone who walks through the doors. For the staff at Gibb's #10 Sales, selling a used car goes far beyond just a simple transaction. It is about building a relationship that lasts long after a person walks out their door with their used vehicle.
While some used car lots are more concerned about making a sale, Gary and Melissa are focused on providing quality vehicles at a quality price. After all, they spend countless time searching for vehicles to add to their lot, which meet their strict guidelines, as they are focused on only offering the best vehicles to potential customers. For them, customer service is extremely important.
"You strive to provide the best customer service you can and get the best bang for your buck for the customer," said Gary.
In a business where their name is everything, Gibb's #10 Sales has made a lasting impression on customers who continue to come back to purchase additional vehicles when it is time to get a different car.
Gibb's #10 Sales was started by Gibb Wegscheid in 1986 and the used car lot has continued to serve the greater NY Mills area ever since. Gary started with Gibb's in 2002 and purchased the business, along with his wife Melissa, in 2016.
In addition to the vehicles on their lot, employees at Gibb's #10 Sales can also search for specific vehicles that a customer may want. All a person needs to do is stop in, or give them a call to let them know the make, model and what they are looking for in a vehicle and then let the staff at Gibb's #10 Sales go to work to make the car buying process even easier.
While they have made a name for themselves in the used car business, Gary said they wouldn't still be in business today without the support of the community as a whole.
"Thanks to everybody for the business we have received over the years," he said,
The website for Gibb's #10 Sales is updated regularly as new vehicles come into the lot and feel free to stop by to visit to check out the vehicles on their lot. For those who need, Gibb's #10 Sales works with local institutions to help with financing a vehicle. They also offer extended warranties for vehicles as well.
Gibb's #10 Sales is located on US Hwy 10 East in NY Mills and can be reached at 218-385-3010 or online at www.gibbsautos.com.