Salo retires Salo retires 
Sports | Published on March 29, 2023 at 12:39am GMT+0000 | Author: Chad Koenen
0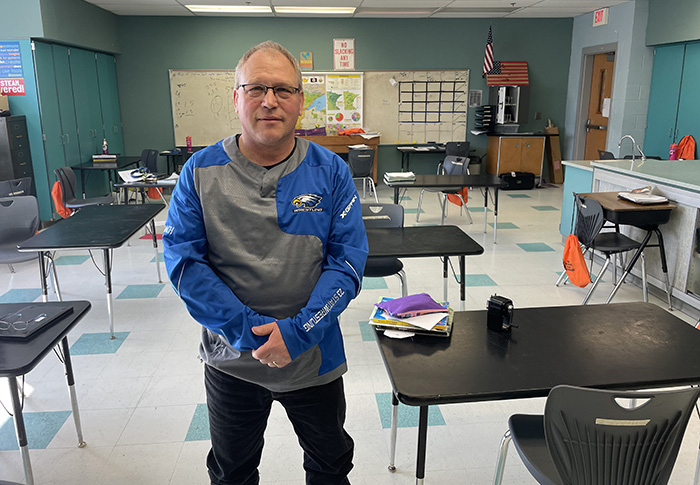 Coaches, athletes are more like family to  longtime coach
By Chad Koenen
Publisher
As he sits in an otherwise quiet classroom, Doug Salo cracks a smile as he dons a blue New York Mills Eagle shirt. He has spent nearly his entire life as a NY Mills Eagle, first as a student and athlete and later as a teacher and coach.
Salo bleeds NY Mills pride, but is quick to point out that without the support of his family he would never be where he is today. 
Of course Salo doesn't mean just his wife and children, but former mentors and students/athletes that have touched his life along the way. There are former athletes who he has coached, many of whom make up a large portion of the coaching staff for the wrestling team, as well as the parents who believed in their child, even as they struggled on the mat. These people are like family to Salo and that family has kept him coaching at his alma mater for 36 years.
His family, both at home and on the mat, has made retiring from coaching such an easy, yet bittersweet decision.
"I've been blessed that I have had people I really consider to be great friends," he said of past athletes and coaches. "The team is in good hands. Just a really good group of guys."
As many schools in the area have opted to coop for sports like wrestling, NY Mills has remained on its own, in large part thanks to the family-centric atmosphere created by people like Salo. When a wrestler graduates from NY Mills they are frequently seen in the stands cheering on their former teammates and friends.
Today, a majority of the coaching staff is made up of former Eagle wrestlers who have returned to share their knowledge of the sport with a new generation of athletes. Some of the coaches are teachers, while others are just community members trying to instill that same sense of family that has been a staple in NY Mills for generations.
While he considered leaving after last season when his nephew Bren ended his wrestling career at NY Mills School, Salo decided to come back for one last season as part of the wrestling program. Salo said coaching has never been about himself, but about the impact the coaches can have on one another, and on the athletes, as they get ready for the next chapter of their life.
"It's never been about me. You have to care about (coaching), but it was never about me," he said.
Even though his time at NY Mills School as a student led him to seek a career in teaching, Salo never imagined coming back to his alma mater to teach and coach. Sine teaching positions were extremely difficult to get when he was looking for a job out of college, the thought of returning to NY Mills seemed like a far fetched proposition.
Fortunately, he was able to land a teaching gig in town and he has never looked back.
"I didn't ever expect to come back, but it is the best thing that happened," he said about returning to NY Mills to teach and coach.
Two of his biggest inspirations growing up were Conrad Mack and Rich Ericksrud who were legendary coaches for NY Mills in their own right. After wrestling for them when he was in high school, Salo returned to NY Mills after college and became close friends with Mack and Ericksrud.
Salo hopes he left a similar impact on past wrestlers and coaches with whom he has come in contact with over the years.
"Conrad and Rich, for whatever reason, they found something in me," he said. "I hope I found something in them (athletes he has coached) that they didn't know they had."
One thing that always stuck out to Salo during his time at NY Mills was how Mack and Ericksrud treated everyone the person who rarely won a match and a state champion in the same way. He said everyone on the team is valuable to a team's success, which includes the stats people and the water boy.
"They treated the water boy and the state champion the same way," said Salo. "The kid that is .500 is just as important."
In addition to his wrestling family, Salo said he family at home has been supportive of him coaching throughout the years. In addition to coaching softball, Salo was the varsity wrestling coach for a number of years, before most recently coaching at the junior high level and as an assistant on varsity.
Even though coaching wrestling meant time away from his family at home, Salo said the support he received from his wife and children made the entire coaching experience possible. Even if that meant frequently spending Saturdays in a gym somewhere or late nights on the road coming back from a meet.
"I never felt like I was wasting a Saturday," said Salo of the long Saturday tournaments associated with both elementary and high school wrestling.
As he hangs up his whistle for the final time, Salo encouraged students to get involved in athletics and other school sponsored activities. He said there is a lot a person can learn by working as a team and making memories that will have an impact on their life long after they leave the friendly confines of NY Mills School.