New water source for watercraft rinse station in Perham
News | Published on April 5, 2023 at 5:57pm GMT+0000 | Author: Chad Koenen
0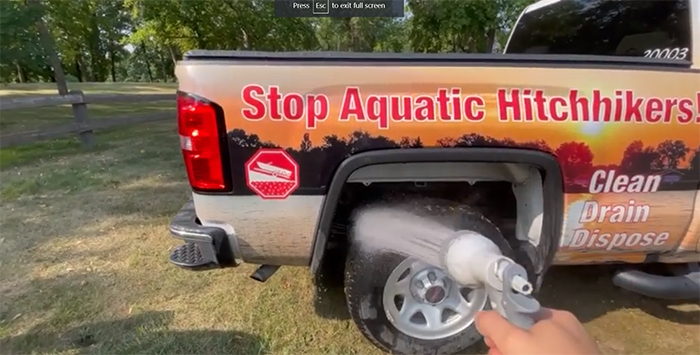 Otter Tail County crew completed 13,000 inspections at lake accesses
By Robert Williams
Editor, Frazee-Vergas Forum
The Otter Tail County Board of Commissioners received its annual reports from the Land and Resource, Aquatic Invasive Species and Human Services departments during its regularly scheduled meeting last week.
Children and Families Unit Supervisor Stephanie Olson reported on 537 reports of child welfare concerns or maltreatment in 2022.
Olson reported that 120 investigations were completed.
"Which means we determined if maltreatment occurred, or not," she said. "We did a little over 200 family assessments, which is more of a family-focused, and friendly, walk alongside the family to see if we can offer support without having it necessarily be court ordered."
There were 87 cases opened in the social services case management system with 71 court petitions.
Land and Resource
Land and Resource Management Director Chris LeClair reported the county issued approximately 15 percent fewer permits in 2022 compared to the prior two years.
According to LeClair, the conditional-use permitting ordinance was changed in 2021 in hopes of reducing the number of applications.
LeClair provided data to show that was likely working as there were 27 conditional use applications submitted in 2022 compared to 62 in 2018.
"The ordinance didn't take effect until halfway through the season," LeClair said. "So, I think 2022 is really the first full year that we potentially have seen an impact that the ordinance has had for conditional-use permits."
LeClair also reported on 900 shoreland permits last year, 652 involving structures within the shoreland area.
There were 673 septic system permits in 2022 involving 609 on-site inspections of installed units. LeClair noted 467 (77 percent) were in compliance.
LeClair attributed people receiving stimulus money from the federal government as a reason for residents to create an uptick in "small, little projects around their house."
According to his report, the total number of permits issued in Otter Tail County remain elevated compared to 2019 and 2020.
Aquatic Invasive Species
Aquatic Invasive Species Specialist Spencer McGrew reported his spring report of a summary from 2022 and what will be done this year.
Staff wages for 24 inspectors and McGrew accounted for 65 percent of invasive species aid money spent last year. The crew completed 13,000 inspections over 10,800 hours at lake accesses. A new record was set of 101 different lake accesses visited in Otter Tail County.
Only 32 citations were given out of 350 cases of noncompliance regarding boat drain plugs.
"The compliance rate is excellent," said McGrew. "Sometimes, that citation or a warning is what is needed, but that's a last resort."
In 2022, there was a record low of infestations county-wide since 2014. Two lakes, Buchanan and Stuart, were designated as infected with zebra mussels, down from 16 total lakes the prior year.
McGrew was pleased to report no infestations of Eurasian Watermilfoil or Starry Stonewort in the county.
"We want to keep it that way," he said.
The new Watercraft Rinse Station at Paul Miller Park in Perham that began operations in May 2022 was shut down late in the season last year. Twice monthly sampling of the filtered water was collected to test for zebra mussel veligers. Two veligers were found in late august, forcing the system to be shut down for the season around Labor Day.
"We could no longer pull that infested water out of the lake," said McGrew.
There happens to be a city well at the park 400-feet from the rinse station that will be used instead with a backflow system installed.
The rinse station allows users to rinse the hull of their watercraft, live well, anchor, trailer, and other water related equipment. Tubers, kayakers, paddle boarders and other recreational lake users are also encouraged to rinse their equipment off before leaving the lake.
A decontamination unit was placed at Otter Tail Lake Sportsman's Public Water Access and was staffed Thursday through Sunday from June 2 to September 12. Twenty decontaminations were performed in 2022. Decontaminations across the state have trended downward in recent years, according to McGrew's report.