Continuing a family tradition in NY Mills
News | Published on April 10, 2023 at 4:21pm GMT+0000 | Author: Tucker Henderson
0
Rutten purchases a stake in Lumber Depot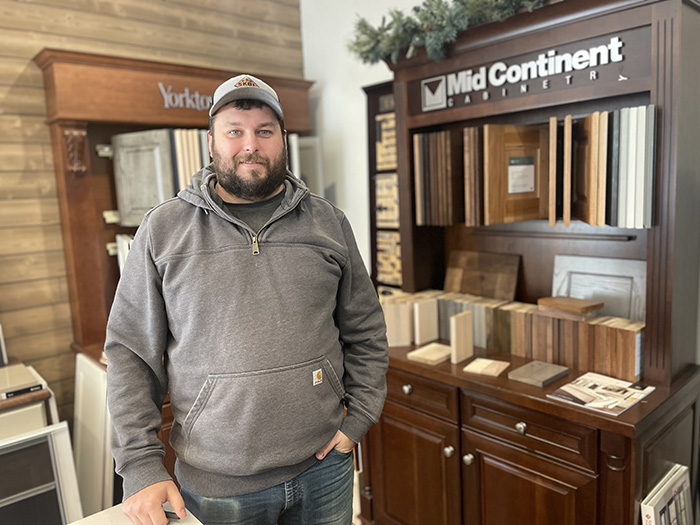 By Chad Koenen
Publisher
Construction has always been a part of Isaac Rutten's life.
After all, when your parents own a construction company, and later a lumber and design business in the heart of lakes country, crafting things with your hands just kind of comes with the territory.
Recently, Rutten purchased into Lumber Depot, to ensure a future generation of Ruttens will be in the area to serve the building needs of the greater New York Mills area. With a background as a machinist, the 2011 graduate from Perham High School began working at his family's company in 2018 and buying into the company with his parents Chris and Peggy Rutten just seemed like a natural next step.
"We have been talking about it for a little bit and we finally got something put together," said Rutten. "Just to continue on the legacy and just keep providing for the community and keeping it going."
Since coming to Lumber Depot full time five years ago, Rutten said he really enjoys drafting and helping clients make their dream building and remodeling project come to a reality.
"It's fun to see all the new projects and get all of the details hammered out and get the customer what they need," he said.
While not much will change at Lumber Depot in the near future, one project Rutten would like to complete is updating and potentially expanding the showroom. The showroom offers potential customers an opportunity to see what new products are available, as well as provide a glimpse at some of the unique designs the professionals at Lumber Depot can create for that perfect finish.
For more information about Lumber Depot, stop by their store located on Centennial 84 Dr. in NY Mills or visit them online at www. lumberdepot.biz