New custom apparel shop opens in NYM
News | Published on April 10, 2023 at 4:10pm GMT+0000 | Author: Tucker Henderson
0
Outsiderz Apparel to offer unique designs, printing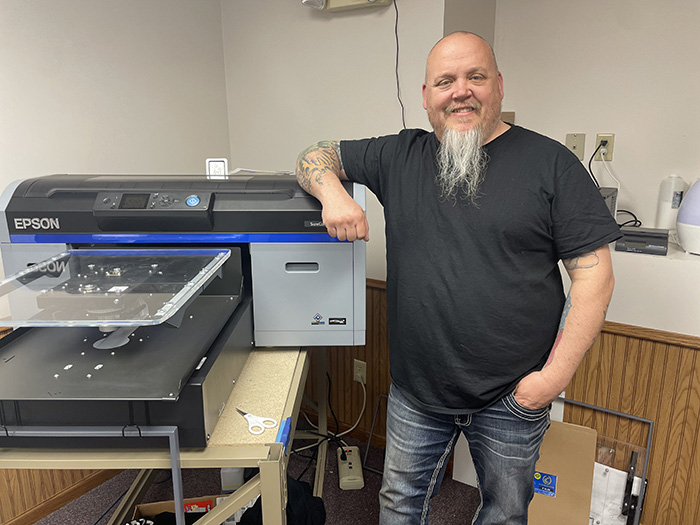 By Chad Koenen
Publisher
A new custom design apparel company in the heart of New York Mills is already leaving a big impression with customers from across the region.
Matt Wedde opened Outsiderz Apparel in February and a board along one of the walls of his local business is already filled with orders that will need to be completed in the next few weeks. That doesn't include all of the orders he has recently completed locally and has been designing for future projects later this spring.
The new business sprung up from a need he saw while his wife and he owned a number of local bars/restaurants like Whiskey Creek in Wadena and Bootleggers in Deer Creek. While the businesses carried a number of clothing options in their bars/restaurants, getting the items was a big challenge since many times custom apparel companies had large minimum orders that needed to be met before they could get an item like a hood sweatshirt.
"We saw a need for it when we were in the restaurant and bar business. Everyone we went to needed a minimum order," he said.
That meant a large upfront cost and hope that the shirts would be a hit with customers. After getting out of the restaurant business, Wedde said he wanted to fill that need for local businesses and organizations who want custom apparel, vinyl and design work, without the fear of needing a minimum order.
"If someone calls us up and wants three shirts we will make them three shirts," he said.
One unique aspect about Outsiderz Apparel is that the apparel can feature an infinite amount of color and designs on each piece of work. For example, Wedde's equipment can create a gradient look, as well as a special shine that will make the product stand out. He isn't limited to just one or two colors on each design, and the design work is all stored on his computer so making a few minor changes does not result in a complete redesign of a product.
"It's amazing to see how vibrant of colors you can print on a shirt and watch it come out," he said.
Outsiderz Apparel is located at 21 N. Main in downtown NY Mills, in the basement of the current Wedde Tax Accounting. For more information about apparel, vinyl or design work, contact Outsiderz Apparel at (218) 640-2104.