Waiting for a turn on the golf course
Sports | Published on April 10, 2023 at 3:18pm GMT+0000 | Author: Tucker Henderson
0
Golfers need to wait a bit longer to get on the links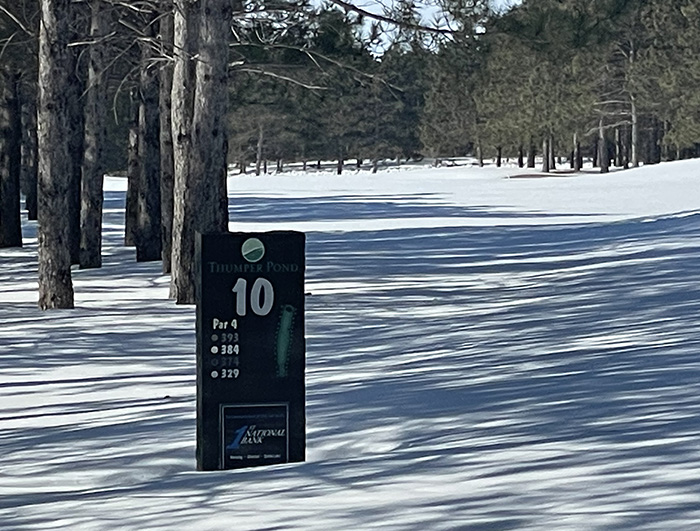 By Chad Koenen
Publisher
A late season snow storm essentially brought the greater Henning and Ottertail area to a stand still last week. After a winter that was among one of the snowiest on the record book, spring can't come soon enough for outdoor enthusiasts, as well as local high school sports teams. That includes local golfers who have been itching to get back on the golf course.
While representatives from Thumper Pond Resort and Oakwood Golf Course said it is too early to tell when their golf courses will open for the season, they are optimistic it won't be too much later than normal.
Andrew Martinson, who is the golf pro at Thumper Pond, said the golf course didn't open until late April last year. With the extended forecast pushing temperatures into the 60s and 70s, he is optimistic that the golf course will be able to open once again in late April or early May—provided of course that the area can avoid another late blast of winter.
"If we get another snow storm then I might be (concerned of opening later than in the past), but right now we are hoping to open soon," he said. "Our pro shop is getting stocked as we speak. We are definitely getting ready."
Luke Dilly, of Oakwood Golf Course, said there is still a lot of snow on the golf course, especially given the time of year. When that snow begins to melt the challenge will be waiting for the pools of water to dry up before people can hit the course for the first time.
While he said the opening date of the golf course may not be too much later than normal despite the large amount of snow still on the course, one challenge he will need to navigate will be annual maintenance and grooming of the course. Typically by the middle of April, Dilly has a plan for what needs to be done in terms of trimming trees and cleaning up from winter. Those project will need to get pushed back a few more weeks until the snow is completely gone.
Provided there is not another big snow storm in the area, both Martinson and Dilly said the goal is to have the courses open by either late April or the first or second week of May.