LREC awards $36,300 in funding to local organizations
News | Published on April 25, 2023 at 2:39pm GMT+0000 | Author: Tucker Henderson
0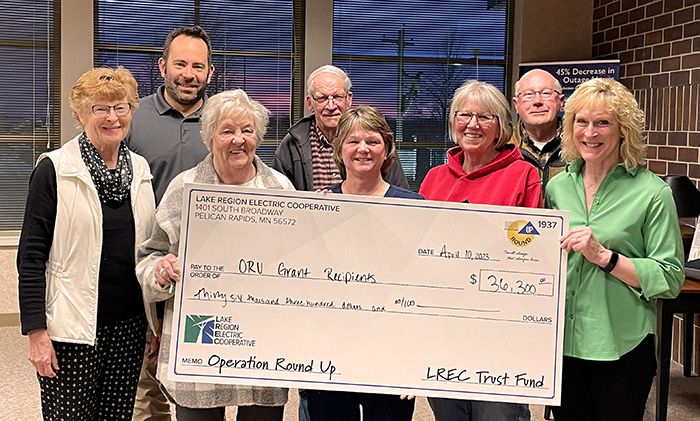 Lake Region Electric Cooperative's (LREC) voluntary charitable fundraising program Operation Round Up (ORU) hosted their quarterly meeting on April 10. During the meeting, the ORU Board of Trustees awarded a total of $36,300 to 16 local organizations and programs across LREC's service territory. Since ORU began in 2007, LREC has awarded $596,120 and has made an enormous impact on the members and communities LREC serves.
Organizations receiving funds this quarter are:
• $5,000 to the Frazee Community Development Corp/Wannigan Park Project
• $3,000 to BIO Girls
• $2,500 to the Barnesville Area Community Fund
• $2,000 to Building A Legacy Education Foundation
• $1,400 to Otter Cove Children's Museum
• $1,000 to Moccasin Valley
• $1,000 to the Clay County Fair & Agricultural Association
• $400 to the Pelican Rapids Living At Home Block Nurse Program
• $5,000 to Tyler Wohler's Trail
• $2,500 to the Minnesota Firefighter Initiative
• $1,000 to the Pine to Prairie Antique Tractor and Gas Engine Association
• $1,500 to Women United of Otter Tail County
• $3,500 to Friends-of Friends Fighting Hunger
• $2,500 to the Friends of the Prairie Wetlands Learning Center
• $3,000 to Faith Haven Camp, Inc.
• $1,000 to Our Saviors Ten Mile Lake Church Quilters
To learn more about the organizations who received funding, please follow LREC's Facebook page (@LakeRegionElectricCoop) as we connect with and spotlight recipients. 
Individuals who have a community project that needs funding, please complete the online Operation Round Up Request for Funding form found at www.lrec.coop/ORU and submit it with supporting documentation for consideration. Applications for the next round of funding will be accepted until June 15, 2023.