M-State students take first at SkillsUSA state championships
News | Published on April 25, 2023 at 2:41pm GMT+0000 | Author: Tucker Henderson
0
Two local students to compete at nationals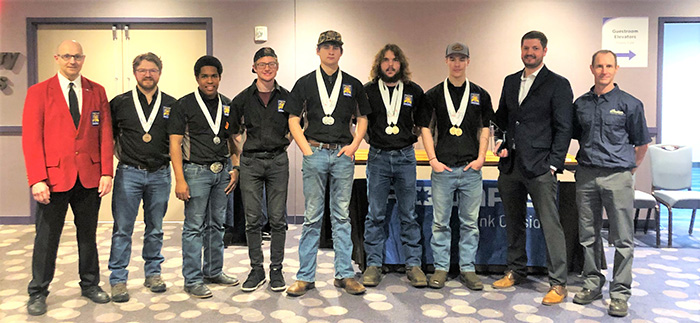 Several students in M-State's PowerSports and Diesel Equipment Technology programs took top honors at this year's SkillsUSA Minnesota State Championships, including three gold medal winners—two of whom will go on to compete at nationals this summer in Atlanta.
Cole Riegert, a first-year M-State student from Beltrami, Minn., won first place in the Diesel Equipment Technology contest, outperforming 38 other competitors from colleges across the state and taking home over $5,000 worth of prizes.
It's the fifth time since 2007 that an M-State student has won the gold in the Diesel Equipment Technology contest.
Also moving on to nationals from M-State is Riley Schoenberger, who will compete in Power Equipment Technology after taking first place in that contest at the state level, in the high school division.
Schoenberger also took first place in Tool and Equipment Technology, a state-only high school division contest. M-State student Jason Haugen took first place in that same state-only contest, but at the college level, and Matthew St. Claire and Owen Hemze took second and third, respectively.
This was M-State's first year of participating in the high school division contests, which also yielded second-place winner Ethan Swiers, who took home two silver medals. The high school contests are open to high school students enrolled at schools with active SkillsUSA MN chapters. Schoenberger and Swiers are Detroit Lakes High School students enrolled at M-State.
"SkillsUSA is an excellent opportunity for students to demonstrate their learned talents," said PowerSports Technology Faculty member Kent Reisenauer. "Congratulations to these students for stepping outside their comfort zone to become the best that they can be."
The SkillsUSA Minnesota State Championships were held March 30-April 2 in the Twin Cities, in conjunction with the 2023 SkillsUSA Minnesota State Leadership and Skills Conference. A substantial snowstorm hit the area during this year's championships, creating added challenges by knocking out power and internet service. As a result, the competitions were held on backup generators and using wifi hot spots.
"This year's competition would not have happened were it not for the teamwork of industry, colleges, and most importantly, the students," said Diesel Technology Instructor Jim Bainer. "It was a true team effort."
Every year, the state championships bring together nearly a thousand career and technical education students to compete hands-on in more than 80 different trade, technical and leadership fields. Students work against the clock and each other to prove their expertise. Contests are run with the help of industry, trade associations and labor organizations.
The philosophy of the competition is to reward students for excellence, involve industry in the evaluation of student performance, and keep career training relevant to the needs of employers.
Contests showcase students' skills and encourage them to take pride in their work while also giving them the chance to connect with prospective employers.
SkillsUSA Minnesota State Championships, M-State winners:
Diesel Equipment Technology
1st Place: Cole Riegert
Tool and Equipment Technology
1st Place: Jason Haugen
2nd Place: Matthew St. Claire
3rd Place: Owen Hemze
Tool and Equipment Technology (high school division)
1st Place: Riley Schoenberger
2nd Place: Ethan Swiers
Power Equipment Technology
2nd Place: Jason Haugen
Power Equipment Technology (high school division)
1st Place: Riley Schoenberger
2nd Place: Ethan Swiers