Turning the page on veterinary medicine in NYM
News | Published on April 25, 2023 at 3:00pm GMT+0000 | Author: Tucker Henderson
0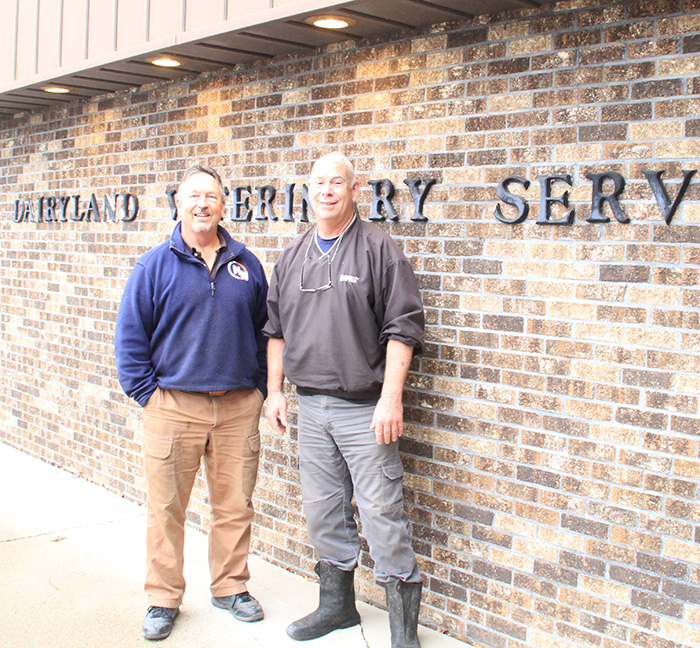 By Tucker Henderson
Reporter
When Dr. Howard Legried started Dairyland Veterinarian Service in 1958, he couldn't have anticipated how much of an impact the business would make on the community over the next 65 years.  ¶  "We've been covering this area 24/7 for the past 65 years," said Dave Rud, co-owner and veterinarian at Dairyland. "We had a 20 mile radius when I started. Yesterday, I was north of Ogema, which is 70 miles."  ¶  Rud arrived in New York Mills with his parents, Harold and Alice, as a child. He went on to graduate from NY Mills High School. Harold was a 1961 veterinary medicine graduate and joined Dr. Legried as an employee in June. A partnership between the two was formed the next year and Alice began as an office assistant.  ¶  "Dad came here because of the highest percent of cattle per township in the state," said Rud. "It's depleting fast."  ¶  When Rud began his career at Dairyland in 1984, there were eight large animal veterinarians between NY Mills and Perham. Today, he and his business partner, Cliff Wessels, are the last ones in the area.  ¶  They speculate that the onset of tractors and automobiles around the turn of the 20th century first pushed veterinarians out of business. With a horseless cart, there was no need for horses. Without horses, the needs for horse veterinarians waned considerably.
A similar change is again taking place in the industry as smaller dairy farms dwindle and the focus on family pet veterinary services expand.
"We're the last of the breed. We feel like it's another turning of the page in large vet services."

David Rud, co-owner of Dairyland Veterinary Service
In 1984, Dairyland Vet served between 400 and 500 clients in the area. With the decline of small dairy farms, the customer list has dwindled to about 150.
"Some of our townships had 30 dairies when I started," said Rud. "They're down to a handful in some cases. When I came back (from college), I had 10 high school classmates as customers out of a class of about 65. There's one left and he will be selling his cattle this fall."
Dairyland Vet used to be a full service office with an operating room and small animal services. In the mid 1990s Dr. Rose, a veterinarian in Perham, developed some health problems and had to narrow his practice to small animal services. Dairyland Vet was able to do the opposite and focus on large animal services. The two made an agreement and Dairyland Vet started sending their small animal customers to Perham while Dr. Rose sent his large animal clients to NY Mills.
"Our generation took an oath to serve society," said Wessels. "To help people."
Rud and Wessels are now referring their customers to a large animal veterinarian in the Menahga and Park Rapids area as they finish out their careers.
"There's no interest coming out of veterinary college," said Rud of veterinary school graduates. "We couldn't hire anyone. They are all small animal (veterinarians)."
Despite the narrowing industry, Rud and Wessels feel a great deal of pride in their careers and have enjoyed each step along the way. Their dedication to service has been the cornerstone of their business.
"Howard had service right in the name—Dairyland Veterinary Service," said Rud. "We stress that."
Dedicated staff have been instrumental in providing that level of quality service over the years. Veterinarians in the past have been Dr. Howard Legried, Dr. Harold Rud, and Dr. Don Oelschlager. Lou Legried was a bookkeeper for many years, Carol Mann was another faithful employee, and Alice Rud and Shelley Wessels helped with office work over the years. Shelley was hired temporarily to fill in while a permanent employee could be found—she was there for nine years. Dennis Windel was office manager for many years and Tammy Whitman currently fulfills that role.
"Two office managers in 25 years," said Rud. "That's pretty impressive. Our employees were so good and dedicated."
Rud emphasized that he had great luck training with Dr. Legried.
"Howard is a pillar of the community. We felt that we were trained by the best. He is a doer, never looking for recognition, just a get things done kind of guy. Even before I became a vet, I rode with him on calls and we would pass by old farms. He had a story for every one we passed by—in great detail."

David Red
Rud and Wessels graduated together from the University of Minnesota Veterinary School in 1984. They were lab partners and quickly became friends. Wessels took a few years before he found his way back to his classmate's corner of the world in 1988.
Wessels grew up on a dairy farm in rural Audubon, so the transition to rural NY Mills was an easy one. His wife, Shelley, worked part-time for the business for nine years.
"I enjoy the people," said Wessels. "I like the lifestyle and the animals—farm animals."
While Dairyland Vet specializes in dairy and beef cattle, there have been some exotic animals thrown into the mix as well. Buffalo, elk, and Texas Longhorn cattle have all been treated by the two veterinarians, making their jobs that much more interesting.
"Over the years one of our favorite things was storm calls," said Rud. "We were the only ones on the road."
He reminisced about the weather-related calls over the years, often pairing up with Wessels in order to get the high-effort jobs done.
Retirement is on the minds of both veterinarians as well as their wives.
"We're looking to reward our wives," said Rud. "They've put up with odd hours, late nights. They've been very patient. When we get a call in the middle of the night, they get woken up too."
Both owners are looking forward to spending more time with their families in retirement. They have both been traveling, hunting, and fishing enthusiasts and have those added to their to-do list in the coming years. There are some things they'll miss, however.
"The people," said Wessels. "I enjoy the people."
"The people, definitely," agreed Rud. "Working with the farmers, they're all friends and feel like family."
While this is the end of an era for Dairyland Veterinarian Services, as well as for Rud and Wessels, they are both grateful for their time serving the community.
"Overall, we feel very blessed working with people we like, doing jobs we like, overall great work career," said Rud.
"We've been lucky enough to work for our friends and neighbors our whole life," agreed Wessels.