Rothsay strives for energy efficiency
News | Published on May 2, 2023 at 2:31pm GMT+0000 | Author: Tucker Henderson
0
Rothsay recognized by Otter Tail Power Company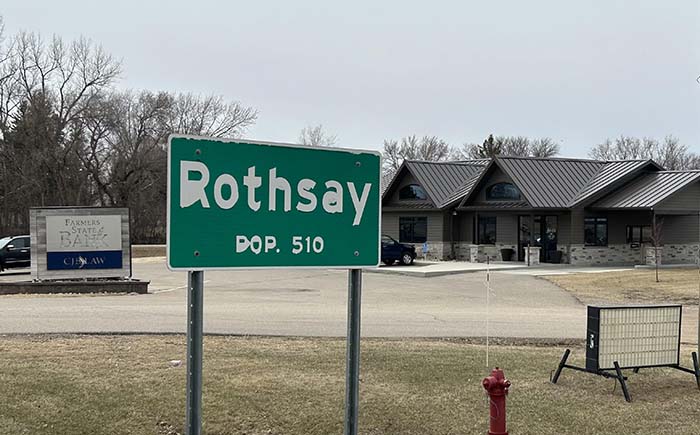 By Tom Hintgen
Otter Tail County Correspondent
Back in 2009, in coordination with Otter Tail Power Company which celebrated its 100th anniversary, the city of Rothsay began a community-wide effort to adhere to energy efficiency.
The goal was to use less energy to perform the same task. Over the next 14 years those efforts proved to be successful.
Today, Rothsay's energy-efficient homes and buildings use less energy to heat, cool and run appliances and electronics. Energy-efficient businesses use less energy to produce goods.
On hand during the kickoff to this program, in 2009, was Minnesota Gov. Tim Pawlenty. This was an ambitious community project, to cut energy use by 10 percent.
Otter Tail Power Company selected Rothsay as a community in its service area to make a showcase of energy efficiency. The kickoff to the program took place at the old high school near downtown Rothsay.
The participation by Otter Tail Power Company was monitored for the next five years to see whether a single community could make a difference when it comes to reducing energy consumption. That goal was reached.
Rothsay, in west central Minnesota, has a population of 510 residents
The power company provided incentives including rebates, free products to help save energy and free weatherization for qualifying households.
Rothsay Public Schools, in 2014-15, built a new facility near Interstate 94. Students and families from many neighboring communities choose Rothsay as their school home because of the nurturing, personal, small class-size learning environment.
Rothsay students, the past 14 years, became involved with promoting energy efficiency, not only in their school but also throughout the community. Students helped community residents learn how to use an online program to better understand their utility bills.