David to present a journey to find a superhero within
News | Published on May 23, 2023 at 3:02pm GMT+0000 | Author: Tucker Henderson
0
Performance set for June 2 at Cultural Center in NYM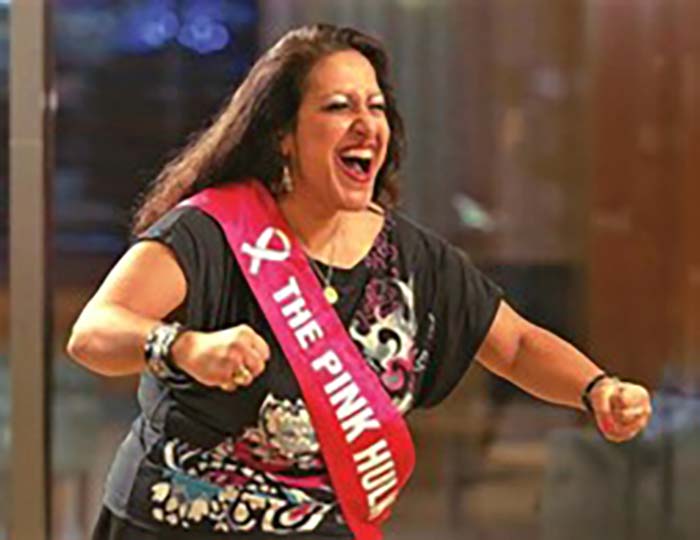 The New York Mills Regional Cultural Center will present the internationally-acclaimed solo show "The Pink Hulk: One Woman's Journey to Find the Superhero Within," written and performed by three-time cancer survivor and patient advocate Valerie David, on Friday, June 2, at 6 p.m.
There will be one performance on Friday, June 2 at 6 p.m. at the New York Mills Regional Cultural Center. The show is approximately 1 hour with no intermission, plus a 30-minute talkback/Q&A. (Recommended for ages 12+.)
Now battling breast cancer after fighting off lymphoma, Valerie does something most people facing cancer in their life probably wouldn't think of doing. With a fear that she might lose "the girls," she takes them out for one last hurrah! Is there a "happy" ending? Come see the show to find out! An empowering and true story of inspiration for anyone facing anyadversity in their own lives—not just from cancer!—with plenty of laugh-out-loud, heartwarming moments!
David's solo play is a celebration of being comfortable in one's own skin and embracing and accepting one's own body—no matter the shape or size. David wrote The Pink Hulk as a cancer survivor to express the empowerment of finding humor and superhero inner strength going through her three cancer bouts. During the 1 hour performance, Valerie portrays over 20 different characters onstage.
A free-will donation will be collected to support Valerie's work and the Cultural Center's artist residency program. Please RSVP to help with set-up planning by calling 385-3339 or emailing cheryl@kulcher.org. There will also be donations accepted for the East Otter Tail County Relay for Life, scheduled for July 14 in Perham.
David will be at the New York Mills Regional Cultural Center as an Artist-in-Residence from May 23–June 6. During her residency, she will be working on her current project, developing her solo show "Baggage From BaghDAD: Becoming my Father's Daughter" about her father and his family fleeing Iraq from religious persecution during the 1941 pogrom of Baghdad. 
For additional information, contact the Cultural Center at 385-3339 or learn more at: kulcher.org/performance-valerie-david-the-pink-hulk/.
About the Cultural Center
The New York Mills Regional Cultural Center is a rural hub for creativity, community vitality, and lifelong learning in the arts. The Center offers visitors intimate opportunities to encounter art and artists in its 80-seat concert listening room, visual art gallery in a historic Main Avenue building, gift store featuring local artists, artist residency program, sculpture park, and a variety of opportunities to learn, grow, and thrive. Since its inception in 1990, the Cultural Center has been passionate about connecting people to artists and rich cultural experiences in rural Minnesota, celebrating the local and being a window to the world. For more information, call 385-3339, or visit www.kulcher.org.
About the artist
Playwright/performer Valerie David "hulked out" on cancer after her first two bouts: Stage III Non-Hodgkin's Lymphoma in 1999 and then breast cancer in 2014/2015. Then in September 2018, David was re-diagnosed with breast cancer—this time Stage IV metastatic.
As of April 2019, she has had no evidence of disease and has continued to thrive. The Pink Hulk has been accepted into more than 50 theater festivals since its 2016 debut, performing domestically and worldwide in more than 25 cities.
David goes beyond just performing her award-winning solo show The Pink Hulk and is truly making a difference: she raises awareness, educates, and inspires communities through her outreach, engagement, and patient advocacy initiatives. She also raises money through her performances for domestic and international cancer organizations.