Molding the youngest of minds in NYM area
News | Published on May 23, 2023 at 3:41pm GMT+0000 | Author: Tucker Henderson
0
Preschool teacher finishes 34th year, looks forward to retirement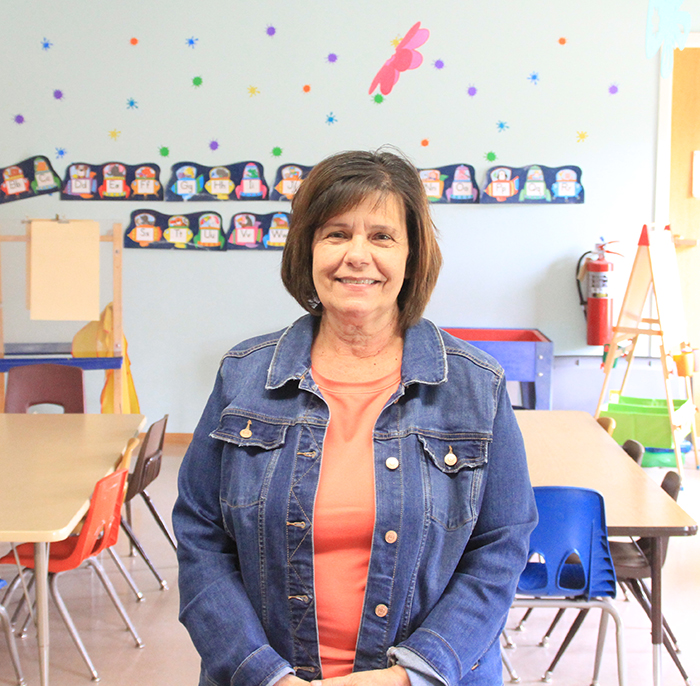 Tucker Henderson
Reporter
As Tammy Peters finishes her final year of teaching preschool at Trinity Lutheran Church in New York Mills, she can't help but smile.
"This is my 34th year," she said. "I worked at another preschool for just a year. I also worked in Wadena at their technical college. They had a daycare center at one time and I worked there for several years.
"I subbed," she added. "I'm still teaching ECFE (Early Childhood Family Education). That's in Wadena through the school."
Peters explained that the job opportunity opened up when the congregation at Trinity discussed the need for a preschool and decided to open one.
"Several people wanted a preschool, so they just organized it and started one up," said Peters. "They felt there was a need for it, so they got started. They were excited about having a preschool here."
A highlight of Peters' position was the ability to teach the youngest learners about Christ.
"Working in a Christian preschool," said Peters, "Being able to teach the kids about Jesus and His love for them, that's one of the big pluses here, that we're able to do that."
Another highlight comes in the daily observation and interaction with her students.
"Just the connection that I'm able to have with the children and the families in our area," said Peters. "Working with kids—you can't find a job better than that. To hear their laughter, see them smiling and how much fun they're having. Watching the kids grow from the first time they step in the door until they leave at the end of the school year and how much they've grown over the year is fun to see."
With 34 years of teaching in NY Mills, teaching two generations of students was bound to happen. Over the last several years, Peters has taught students whose parents were also former students of hers.
"My first class, I had a dad, and now in my last class, I have his son, so that was kind of unique I thought," said Peters. "That was kind of fun. I've had parents and I've had the children of those parents."
Looking toward retirement, Peters says she still wants to be involved in teaching children.
"Next year for sure, I want to continue working with kids in some way," she said. "Through subbing, I will continue teaching my ECFE classes, just going into the school to see if they need help, pulling kids out to read."
Peters' husband, Gary, will be retiring next year and their plans for the future will materialize sometime after that time.
"After that, we'll see how it goes," said Peters. "We'll see what our plans will be. My children and grandchildren all live close, so they keep me really busy. We'll have six grandchildren at that time, so they keep me busy too, which is fun."
Even though retirement opens the doors to many other opportunities, Peters will miss some of the day-to-day interactions with the students.
"I will miss the connection with the kids and the families," she said. "This is a great age to work with and I will miss that.
"I feel that I've had so many wonderful years working with children and families that have walked through this door at the preschool here and I'm thankful that God led me on this path and He gave me so many blessings along the way to be able to be here this many years," said Peters.