An 'Eagle' eye for scouting in New York Mills
News | Published on September 12, 2023 at 4:00pm GMT+0000 | Author: Tucker Henderson
0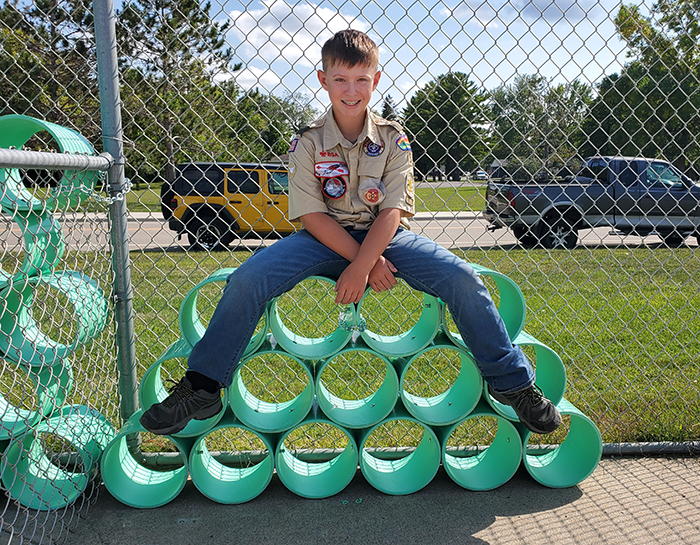 By Tucker Henderson
Reporter
Every Boy Scout dreams of earning their Eagle Scout badge one day. Less than three percent of all boy scouts attain the highly-coveted rank and most of those who do, complete their projects towards their senior year of high school. 
Wyatt Helmbrecht is one local Boy Scout who is defying both of those statistics.
Helmbrecht, age 13, is an eighth grade student at New York Mills High School and has been a Scout for the past eight years. He started out as a Tiger Cub Scout and completed his Arrow of Light with the pack. As NY Mills does not currently have a Scouts troop, he joined Wadena Boy Scout Troop 54 two years ago. He actively participates in his Troop, including selling Christmas trees each year from his home, acting as a satellite location. In fact, the Scouts have become a family bonding experience for Wyatt and his mother, Jessica Helmbrecht.
"I am a very proud Scout mom of all the accomplishments Wyatt has made and all the work he has done," said Jessica. "He has attended multiple merit badge weekends, BSA Scout Camps, completed multiple service hours and also became a member of OA (Order of the Arrow) along with National Youth Leadership Training.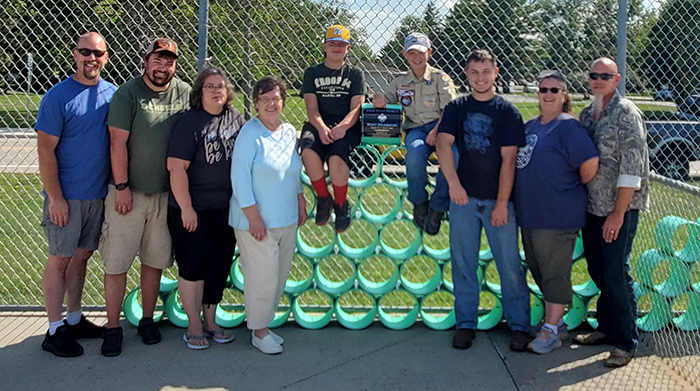 "I am involved with leadership," she continued. "I have been Wyatt's den leader in Cub Scouts since Tiger rank all the way to Arrow of Light. Once he joined the Wadena Troop 54, I was excited to be asked to take on the Committee Chair. I also sit on the district level for North Star District as District Chair."
Wyatt recently installed storage cubbies at the Legried Community Pool as a part of fulfilling his Eagle Scout Service Project requirements.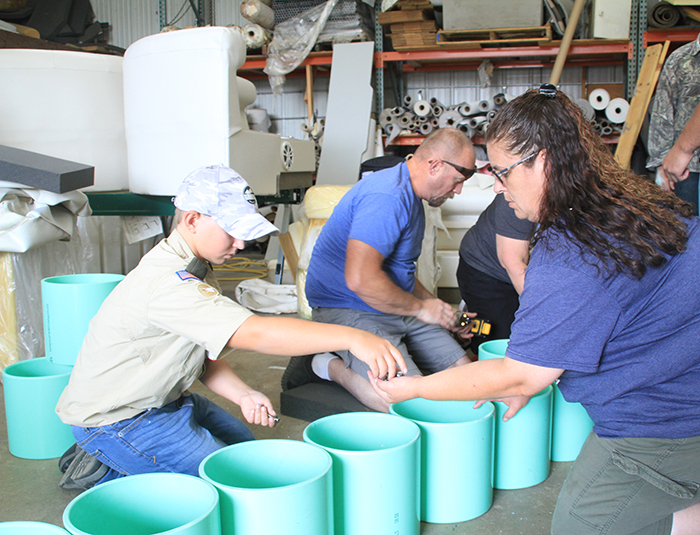 "I got the idea from going to Boy Scout Camp," said Wyatt. "They have (storage cubbies) down at their waterfront at Camp Wilderness on the shore by the lake. I got the idea from Ranger Andy—I had to write up a proposal for the Eagle Board to approve and get signatures."
Along with the Eagle Board, Wyatt also needed the approval from the City of NY Mills, which included a trip to talk with Pool Manager, Harley Wurst, and Public Works Supervisor, Kyle Mattson. Before long, everything was approved so that he could move forward with the project.
On Sunday, Aug. 27, Wyatt and nine others worked for three hours assembling the cubbies at Modern Assemblies, who donated the shop space for the project. Wyatt also wanted to thank his family for their support, Mills Market for the case of water, Lunds for the nuts and bolts, and Northern Piping in Fargo for the PVC pipe.
"We had to line it up and drill holes in it, five inches apart," explained Wyatt. "Then you put a bolt in with a washer and two nuts at the end."
He said that the second nut on each bolt was to prevent pool-goers from scraping themselves as they went by, as well as providing a secure hold on each cubby bolt.
"A highlight from the day was watching Wyatt lead the group and explain to them what he expected," said Jessica. "I loved watching his leadership skills that he has gained throughout scouting be used. It was also great to see how smoothly the day went and all the support he had there to help him. At the end it was seeing the big smile on Wyatt's face knowing he was proud for finishing and completing his goal."
Later on in the day, the group took the assembled PVC cubbies and drove them over to the pool where they installed them. With the leftover supplies, Wyatt was also able to make a small wall of cubbies for the kiddie pool.
"It will benefit the people that use the pool so they're not getting their stuff all wet," said Wyatt. "There's more chairs for people to sit in."
He also explained that he still has to finish his workbook and project plan as well as request letters of reference to finalize his project with the Eagle Board of review.
"I am very proud of Wyatt and all the hard work he has done to complete his project," said Jessica. "He first had to come up with an idea of what he wanted to do. He thought of multiple different ideas but kept going back and talking about really wanting to do something for the pool and making the cubbies for people to have a place to put their belongings. I think his project idea is fantastic and everyone that attends the pool will benefit from it.
"I feel Wyatt set a goal and worked hard to complete his goal," she continued. "He is a go getter. He had a mindset of what he needed to get done and what steps he needed to take and stuck to it."