Fairgoers see old newspaper operations
News | Published on September 12, 2023 at 3:46pm GMT+0000 | Author: Tucker Henderson
0
State fair wrapped up on Labor Day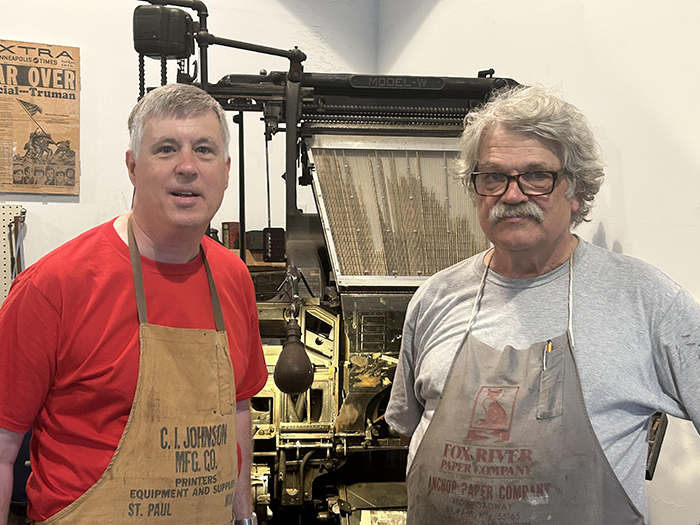 By Tom Hintgen
Otter Tail County Correspondent
Old newspapers, with the use of letterpress printing, came to life this year for state fairgoers in St. Paul. They visited the Minnesota Newspaper Museum during the Great Minnesota Get-Together.
Volunteer Mark Digre of Minneapolis said his fascination with newspapers started while growing up in the small town of Clinton in west central Minnesota, southwest of Morris.
Digre has been friends of newspaper employees his entire life. The same holds true for another newspaper museum volunteer, Mike Sebek of Edina.
On Friday evening, Sept. 1, Digre shared with fair visitors his knowledge of linotypes and other aspects of the old newspaper days.
Sebek was also passionate about his volunteerism and love for the newspaper business, past and present.
All of this is a joy for members of the Minnesota Newspaper Foundation that is responsible for the living history exhibits at the newspaper museum on the state fairgrounds.
"We're also happy that the exhibits explore the impact that newspapers have had on their communities," says Henning, New York Mills and Frazee-Vergas Publisher Chad Koenen, currently the president of the Minnesota Newspaper Association. "The museum also highlights the importance of freedom of the press."
Slugs and pigs during
old newspaper days
Some of the words used by newspaper employees in the 1950s, 1960s and into the 1970s will surprise many present-day readers. Here are a few of them:
SLUG – We aren't talking about a wet friend who lives in the garden. A slug, in the old days of newspaper operations, referred to lines of words in the printing process, stacked one on top of another.
PIG – A pig at the newspaper museum is a big, heavy lead bar that hangs on the side of the linotype machine. As the linotype operator types out lines of words (slugs) the lead pig slowly melts. After the newspaper is written, employees melt the slugs down back into a pig.
CROP – Newspaper crops don't grow in fields. To crop a photo or illustration means to cut off part of it, to focus on the main subject.
DUMMY – Dummy is not something news people call someone while being mean. It was a policy to print a dummy to show a newspaper advertiser an example of what would be the finished product.
TYPO – A typo, in newspaper talk, refers to a mistake. It might be a mistake in spelling or a mistake in sentence structure. A clever proofreader would hopefully see the sneaky typo and make a correction before it would appear in the newspaper.