Making every stitch count at SmithCo
News | Published on September 12, 2023 at 3:51pm GMT+0000 | Author: Tucker Henderson
0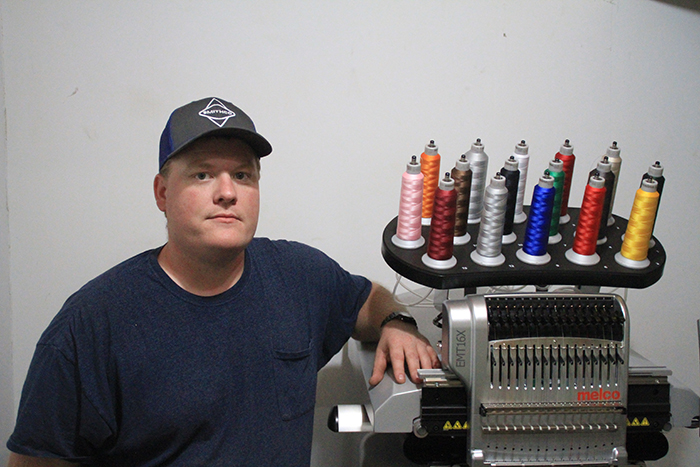 By Tucker Henderson
Reporter
During the last weeks of July a new business in New York Mills became a reality. SmithCo, an embroidery studio, recently opened for business and is accepting orders for custom embroidered hats.
"I had heard there was a need in the area for hats and I started digging into it," said Garland Smith, operator. "My wife got behind it, so she was on board. I've done a couple orders already. Three half orders and then some single orders."
Smith purchased a brand new Melco EMT16X embroidery machine in order to make the business a reality. His workspace takes up a small room in his basement on Park Street. He attended a Melco training event recently to get a handle on the machine's operation. Despite the humble beginning, SmithCo has already garnered the attention of local businesses and has plans for expansion in the future.
"Basically, I am starting out embroidering hats and working my way into embroidering shirts, sweatshirts, coats and other items," said Smith. "I can do flats, but right now, we're slowly working into the other stuff. I have to get some more hooping devices. There's a few more hoops I'd like to get so I can do shirts and soft-shell jackets. I'm just going to start out small and work into it.
"I'm an Otto hat dealer," continued Garland, picking up his Otto catalogue. "The main feedback I hear from a lot of people is that they like the Richardsons. Everybody likes them because they're durable and strong. They're a little bit more money, but they last."
Smith was able to color match his thread order to accommodate the NY Mills School's new logo. The logo consists of five different colors, including two distinct oranges.
"I just got the colors for the school logo," he said. "We were kind of worried at first, because the beak is two different colors, but I was able to match all of the threads."
The embroidery is completely new to Smith. He has quickly learned the ropes through the Melco training and is excited to work with the community to deliver their specific needs.
"I've been around sewing with my mom, but nothing like this," he said. "The first three orders, I got really good comments from customers. My favorite part is going from the picture, to a digitalized file, then once it gets loaded into the machine and actually embroidering the garment and seeing the outcome—it's really amazing."
Customers with a design ready for digitization are able to contact Smith, who then sends the design on to an online digitizer that he works with. The digitizer then works out the digital file for Smith to input into his Melco machine. From there, the embroidery machines carefully makes each colored stitch to complete the anticipated design.
"I've hard really good luck with my digitizer," said Smith. "A lot of embroidery shops, they don't do their own digitizing. It's a whole 'nother world. You're dissecting it, going through each stitch, there's so much that they do."
Smith said that anyone interested in embroidered hats for their business, organization, or individual, can contact him at (218) 298-1443 or at smithco2390@gmail.com. Along with a variety of hats, colors, and custom embroidery, SmithCo is able to complete orders rather quickly, depending on order volume.
"We'll see where this takes me," said Smith. "We'll see where it goes."