Dorothy Endres, 97
Published on October 27, 2021 at 5:43pm GMT+0000 | Author: Chad Koenen
0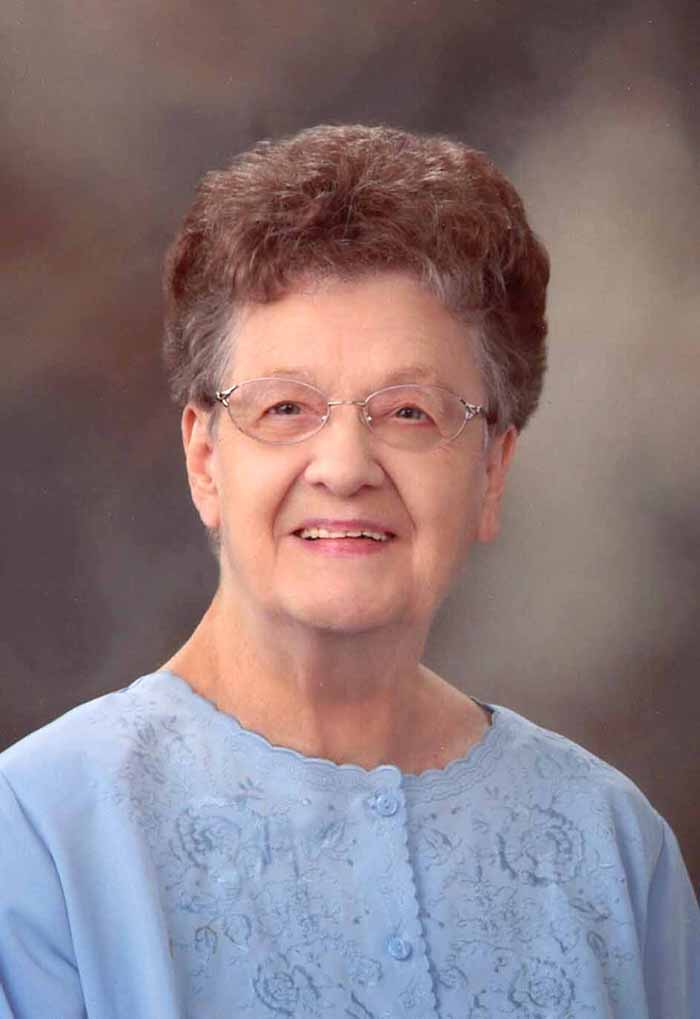 The Mass of Christian Burial for Dorothy Endres of Bluffton was celebrated on Friday, October 29 at 11 a.m., at St. John the Baptist Catholic Church in Bluffton with Father Gabriel Walz as celebrant.
Visitation was held on Thursday, from 5-8 p.m. at the Johnson-Schuller Chapel in Wadena, with Christian Mothers Rosary at 5 p.m. and Prayers at 6 p.m. Visitation resumed at the church on Friday from 9:30 a.m. until the time of the service.
Dorothy, age 96, passed away on October 22, 2021, at Fair Oaks Lodge in Wadena. She lived the last three years of her life at Fair Oaks Lodge, where she received loving care. In the last year of her life, she also received caring support from Knute Nelson Hospice.
Dorothy was born the fourth child of fourteen to Luke and Margaret (Cain) Marden. She was born at home on January 4, 1925, in Staples, Minn. She grew up in a large Irish Catholic family of seven boys and seven sisters amidst the Great Depression. She had many stories to tell about the hardships her family endured during this time. Throughout her life, she was very proud of her Irish heritage. Dorothy attended Sacred Heart Catholic School in Staples through the eighth grade and graduated from Staples Public High School in 1944.
On May 28, 1955, Dorothy married Sylvester Endres at Sacred Heart Catholic Church. They made their home in Bluffton where they raised six children. Dorothy was always a willing volunteer. While her children were growing up she was a 4-H leader and also taught religious education. She belonged to a Homemaker's Club, volunteered as a Pink Lady and was a long time member of the Christian Mothers. Dorothy's Catholic faith was very important to her. In her free time, Dorothy enjoyed playing cards and never turned down an opportunity to play Bingo! It's also no secret she had a lifelong love of anything with the word "Hershey's" printed on it.
Preceding Dorothy in death were her husband, Sylvester (1996); parents, Luke and Margaret; an infant daughter; and son, Mark; siblings, James, Ken, Philip, Robert, Richard, John, and George Marden, and Lorraine Shannon, Maxine Doyle, Elizabeth Nelson, Joan Kern, and Marylou Sigfried.
Left to remember Dorothy are her children, Gregory (Jody) Endres of Carrington, N.D., Joseph (Chris) Endres of St. Louis Park, Minn., Maureen Endres of St. Cloud, Minn., Ellen (Steve) Wallgren of Bluffton and Teresa (Steve) Hansen of Hankinson, N.D.; grandchildren, Abby (Adam) Wortman, Brady Hansen, Emily (Tyler) Bosh, Libby Wallgren, Joe Wallgren, Erin Endres, Claire (Jacob) Bitz, Ann Endres, Jill Endres and Luke Endres; great-grandchildren, Finley, Graham and Graecy Wortman, Leo and Lennox Bosh, and James Bitz; sister Jeanette Warner; sisters-in-law Lorraine Marden, Marinda Marden, Carol Marden and Gloria Marden.
Active pallbearers will be her grandchildren.
Burial will be in St. John the Baptist Catholic Cemetery, Bluffton.
Arrangements are with the Schuller Family Funeral Homes & Cremation Services, Johnson-Schuller Chapel, Wadena. (www.SchullerFamilyFH.com)