Gertrude Rimpila, 96
Published on September 6, 2022 at 1:51pm GMT+0000 | Author: chadkoenen
0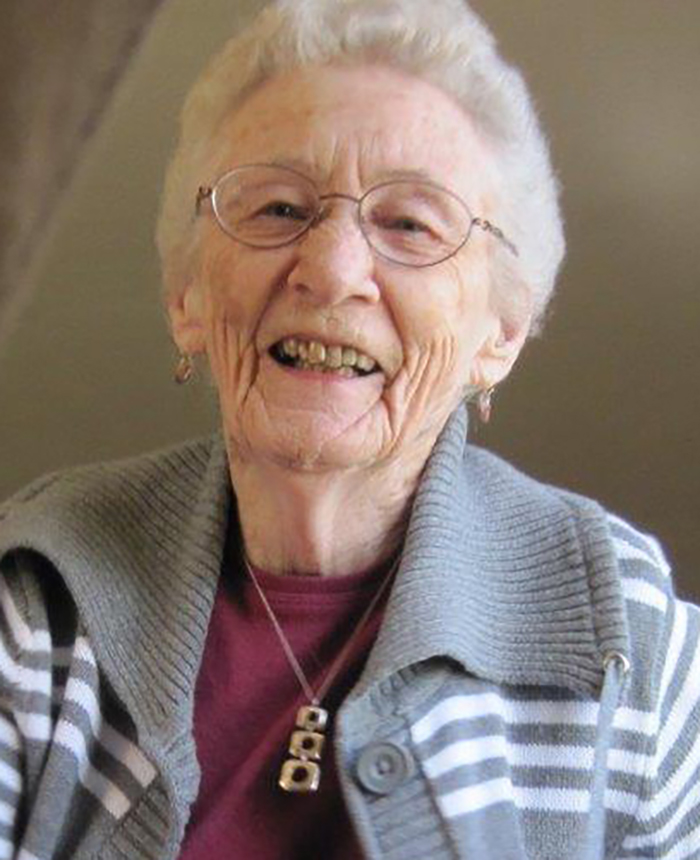 Gertrude "Peg" L. Rimpila, 96, of Fergus Falls, died Saturday, August 13, 2022 at her daughter's residence.
Gertrude "Peg" Lenore Petersen was born September 27, 1925 to Ebby and Ellen (Lowrie) Petersen in New York Mills. She attended school in New York Mills.
On September 10, 1944, she married Bernard Rimpila in Sebeka. After their marriage they lived in New York Mills, she worked for the school, the creamery, and at a grocery store. They moved to Hastings from New York Mills in 1958, where she worked for the school and the Credit Bureau and SMEAD, she retired from the Dakota County Assessor's Office.
Peg was a member of Our Savior's Lutheran Church in Hastings and was on the prayer group committee. She was very active with the youth group in the 1960's and 1970's as a chaperone and advisor. She was a volunteer for the American Cancer Society.
She enjoyed sewing, baking…she baked the best pie in town, crocheting, reading, and jigsaw puzzles.
Preceding her in death were her husband, Bernard Rimpila; sons, Ronald Rimpila and Gary Rimpila; parents, Ellen Bakken and Ebby Petersen; step-father, Peter Bakken, and son-in-law, Maurice Springer.
Peg is survived by her children, Gloria Springer of Fergus Falls and Lucky (Connie) Rimpila of Northfield, Minn.; daughters-in-law, Patti Rimpila and Helen Rimpila; grandchildren, Heather (Brandon) Bontjes, Peter (Heidi) Leeson, Brian (Paige) Rimpila, Travis Rimpila, Kelly Rimpila, Karianne (Dan) Cuppersmith, Reed (Lindsay) Rimpila, Jesse (Kristie) Rimpila, Jennifer (Jeff) Brooks, and Benjamin (Tracey) Rimpila; 19 great-grandchildren, and seven great-great-grands.
Memorials are preferred to Hastings Family Service or Knute Nelson Hospice.
Memorial Service: 11 a.m. Friday, September 16, 2022, at Our Savior's Lutheran Church 400 W. 9th Street Hastings, MN 55033, with visitation one-hour prior to the service.
Interment: Lakeside Cemetery, Hastings, Minn.
Assistance provided by Olson Funeral Home in Fergus Falls.
Online condolences may be sent to www.olsonfuneralhome.com