James Wallgren, 82
Published on February 3, 2021 at 2:12pm GMT+0000 | Author: chadkoenen
0
Private Family Services were held for James "Jim" Wallgren, age 82 of New York Mills, Minnesota at Trinity Lutheran Church with Pastor Kirk Douglas officiating. Jim was laid to rest at Woodland Cemetery, New York Mills.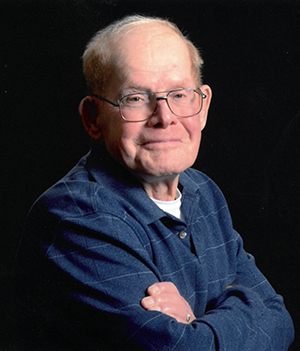 James "Jim" Fred Wallgren was born on June 11, 1938 at home in Blowers Township, rural Sebeka. His parents were Henry and Laura Marie (Becker) Wallgren. Jim attended District #220 Country School in Blowers Township until the 8th grade. He graduated from the Sebeka High School with the class of 1956. Jim was united in marriage with Margaret Kujala on March 7, 1959 at the Apostolic Lutheran Church in New York Mills. Their marriage was blessed with three children: Cheri, Steven and Tim.  
Jim was employed with Lund Boats where he worked in all departments from the ground up. He retired after 41 years with the World's Greatest Fishing Boat Company as plant manager in 1998. Margaret passed away on July 26, 1992 of cancer. During Jim's retirement he enjoyed spending time with his family and on the lake fishing and in the woods hunting. Jim took on a part time job with Parta Printer's in New York Mills. He enjoyed his weekly trips visiting with people and delivering the newspapers around the area for 20 years. Jim was a member of the New York Mills Volunteer Fire Department for 29 years. He was a lifetime member of Trinity Lutheran Church in New York Mills where he served on various committees over the years, and a Lion's Club Member, receiving several awards recognizing his service including the Melvin Jones Fellow award- the highest award given to a Lion's Member.
On August 27, 1994 Jim was united in marriage with Dianna (Hildebrand) Freeman at the Perham Church of Christ. Together they enjoyed traveling and going on family vacations where they fished with their children and grandchildren.
On December 22, 2020 Jim passed away peacefully at the Perham Health Hospital in Perham, at 82 years of age. He will be dearly missed by his family and friends. Preceding Jim in death were his parents, Henry and Laura Wallgren; wife Margaret Wallgren; brother Wally Wallgren; nephews: Kip Wallgren and Curtis Wallgren.
Surviving Jim is his wife: Dianna; daughter Cheri (Dan) Tumberg; sons: Steve (Holly) Wallgren; Tim (Sherri) Wallgren; 5 grandchildren; 4 step grandchildren; 6 great-grandchildren; brother: Robert (Karen) Wallgren; sister: Mary (Donovan) Rajdl; and sister-in-law: Jean Wallgren.
Please visit www.karvonenfuneralhome.com to leave memorials and condolences on Jim's Tribute Wall.
Arrangements provided by Karvonen Funeral & Cremation Service of New York Mills.