Mae Fraki, 100
Published on August 2, 2021 at 9:27pm GMT+0000 | Author: chadkoenen
0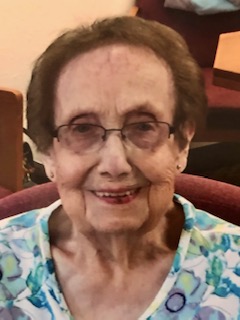 Funeral services were held for Mae Fraki on July 26, 2021 at Trinity Lutheran Church in New York Mills. Reverend Kirk Douglas officiated. The pallbearers were her six grandchildren: Brent Tikkanen, Kelly Tikkanen Lang, Christopher Baden, Erik Baden, John Fraki and Thomas Fraki. Mae was laid to rest in Greenwood Cemetery, New York Mills.
Mae Helen Maki was born on the family farm on March 11, 1921 in Homestead Township, New York Mills. Her parents were the late Matt and Maria (Koski) Maki. She attended Country School, District #175 and graduated with the class of 1940 from New York Mills High School. On September 4, 1944, Mae was united in marriage with Irvin Fraki at Messiah Lutheran Church in St. Louis, Mo. They were married almost 76 years until Irvin's death in 2020. Their marriage was blessed with three children.
Mae and Irvin made their home in New York Mills. From 1956 to 1978, they owned and operated Irv's Grocery on the south side of New York Mills.
Mae and Irvin spent 4 years in Richfield, Minn. managing a senior apartment complex before moving back to New York Mills in 1984. They moved to Baxter, Minn. in 2004 and both enjoyed traveling the USA and spending time with family, friends and neighbors.
Mae passed away on July 16, 2021 in Baxter, Minn. at 100 years of age. She will be dearly missed by her family and friends.
Preceding Mae in death were her husband Irvin and her parents; sisters Fanny Maki, Signe (Verner) Porkkonen and Lillian (Dennis) Fraki; brothers Jalmer, Matt, William, Waino, Arvo, Edwin, Victor and their spouses; brothers-in-law Hubert Fraki and Dennis (Lillian) Fraki; sisters-in-law Drusilla Falk and Rosalie Walz.
She is survived by her daughters Connie (Stan) Tikkanen of Plymouth, Minn., Corrine (Nels) Baden of Maple Grove, Minn. and son Michael (Nadine) Fraki of Baxter, Minn.; six grandchildren Brent Tikkanen, Kelly (Greg) Lang, Christopher Baden, Erik (Vanessa) Baden, John ( Steph) Fraki, Thomas Fraki; two great-grandchildren Rebecca and Nickolas Lang; brother-in-law Larry (Joy) Fraki of Pine Island, and many nieces, nephews and friends.
Please visit www.karvonenfuneralhome.com to leave memorials and condolences on Mae's Tribute Wall.
Arrangements provided by Karvonen Funeral & Cremation Service of New York Mills.