Marjorie Weller, 88
Published on January 16, 2023 at 7:50pm GMT+0000 | Author: Tucker Henderson
0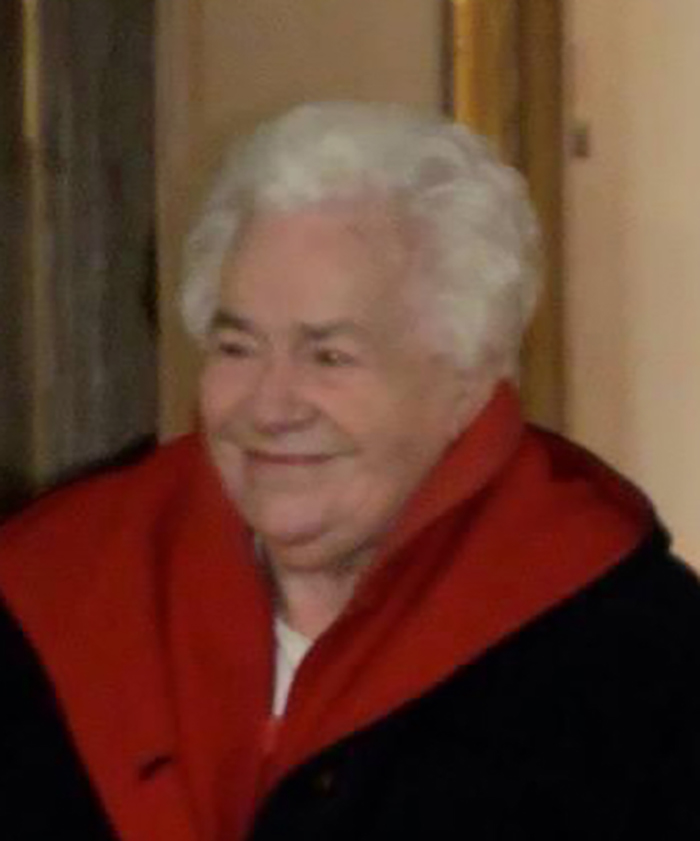 Funeral Mass was held for Marjorie Weller, age 88 of Wadena on Wednesday, January 18, 2023 at St. John The Baptist Catholic Church in Bluffton, with Fr. Aaron Kuhn officiating. Pallbearers were Mike Weller, Jessica Lofgren, David Weller, Jennifer Schawntes, Darin Johnson, Andrea Scott, Shawn Meyer, Eric Weller, Angie Weller, Kami Viken, Nicholas Weller, and Torry Nesland. Marjorie was laid to rest in St. John's The Baptist Catholic Church Cemetery in Bluffton. 
Marjorie Ann Kowalski was born on January 31, 1934 in Fergus Falls, Minnesota. Her parents were the late Bernard and Hattie (Bradow) Kowalski. She graduated from Fergus Falls High School with the Class of 1952. Following graduation she worked at S & L Department Store. 
She loved to write letters to her cousin Don Kowalski during the Korean war. He asked her to also send letters to his bunk mates. One of those bunk mates was Arnold Weller. Don invited Arnold home on leave to meet Marjorie. They met at a dance in Fox Home, Minn. On returning back to the War, Arnold sent a letter to his mother, in which he wrote "I think she's the one."
On June 13, 1955 Marjorie was united in marriage to Arnold Joseph Weller at Our Lady of Victory Catholic Church in Fergus Falls. Their marriage was blessed with thirteen children. Together they made their home in rural New York Mills where they raised their family and farmed. 
Marge was employed at Langer's Grocery store in Bluffton, The Bake Shoppe, and the Elder's Home in New York Mills. 
She loved playing cards, baking, mowing lawn, gardening and spending time with family. One of her favorite things to bake was cookies for anyone who would ask (even radio announcers) which had to be delivered untouched by her children. Her family and friends loved to listen on the morning radio to see if she made the "call-in" for radio trivia. She was an active member of St. John's Catholic Church. She was a lifelong member of the Christian Mothers and served as president, where she organized and planned the annual church fall bazaar. If she wasn't indoors playing cards, you could find her "toodling" around on her golf cart with her beloved Pugsley. 
On January 13, 2023 Marjorie passed away peacefully surrounded by her loving family, under the care of Knute Nelson Hospice, at The Meadows in Wadena, Minnesota at 88 years of age. She will be dearly missed by her family and friends. Preceding Marjorie in death was her husband, Arnold, sons; Doug Weller and Eugene Weller, siblings; Duane Kowalski, Robert Kowalski, and Deloris Duenow. 
Marjorie is survived by her children: Wayne (Deb) Weller of New York Mills; Patty Weller of St. Cloud, Minn.; Georgia Weller of West Jordan, Utah; Mary (Bruce) Johnson of New York Mills; Josie (LeRoy) Smith of New York Mills; Linda (Dan) Meyer of Belgrade, Minn.; Terry (Jan) Weller of New York Mills; Leo (Tracy) Weller of New York Mills; Cindy Weller of Lengby; Eddie (Tara) Weller of Bluffton; Connie (Ernie) Kawlewski of New York Mills; daughter-in-law, Janeen Weller of New York Mills; 32 grandchildren, 56 great grandchildren, 5 great great grandchildren, many nieces, nephews, cousins, other relatives and a host of friends.
Please visit www.karvonenfuneralhome.com to leave a message of comfort and support for Marjorie's family.
Arrangements provided by Karvonen Funeral & Cremation Service of New York Mills.