Country cemeteries provide a glimpse to the past
Published on April 5, 2022 at 3:34pm GMT+0000 | Author: chadkoenen
0
Tucker Henderson
Reporter
If there's one thing that I enjoy on a sunny summer's day, it is visiting the family cemetery. Now, I know a lot of folks might hear something like that and find it a tad creepy, but if you've ever cleaned a family member's gravestone on a windy day, or visited the family plot in a quiet, country cemetery, then you know what I mean.
After the first pioneers settled in our area, the first deaths in the families made them realize the need for a cemetery in the area. Often, cemeteries would be a chunk of land donated to the church by the pioneer with the first death in the family. This was the instance in the Emmanuel Cemetery on the south end of Rush Lake.
Immanuel Cemetery (also spelled Emmanuel) was donated to the Immanuel Church of Otto Township after founding member, William Kempf, had a son that passed away. Kempf's son Arthur, was the first church member to pass away, so as the tradition went, William donated a parcel of land so the church had their own cemetery and his son had a final resting place.
Prairie Cemetery began when a 2.25 acre tract of land was purchased from Alexander and Bieta Pikkarainen in 1886 to be used as a cemetery by the South Country Finnish Church of Otto Township (now known as Apostolic Lutheran). The church has gravestones with dates as far back as 1883, so the land was being used as a burial ground by settlers, before it was even sold. As the story goes, two Finnish men with the first names of Pekka, were the first to be buried there, so the locals referred to it as "Pekkan Maatta" which means "Peter's Land," referencing the two men buried there.
After 30 years, the Leaf Lake Evangelical Lutheran Church purchased another 2.25 acres south of the first plot from the Pikkarainen family and used it for their own burials. After the church dissolved and merged with Trinity Lutheran, the proceeds from their auction benefited the local cemeteries in the area, including Prairie.
Woodland Cemetery was originally a part of pioneer Apostolic preacher Israel Hagel's property and when the Apostolic Church went looking for a parcel to purchase for a cemetery south of town, Hagel said he would sell/donate a chunk of his property for that purpose. He specified conditions for this transaction, however. He said that the cemetery must be available to all community members, regardless of church membership. Apostolic agreed to the terms and it was named "Hagel Cemetery." It has obviously been renamed after its location since then.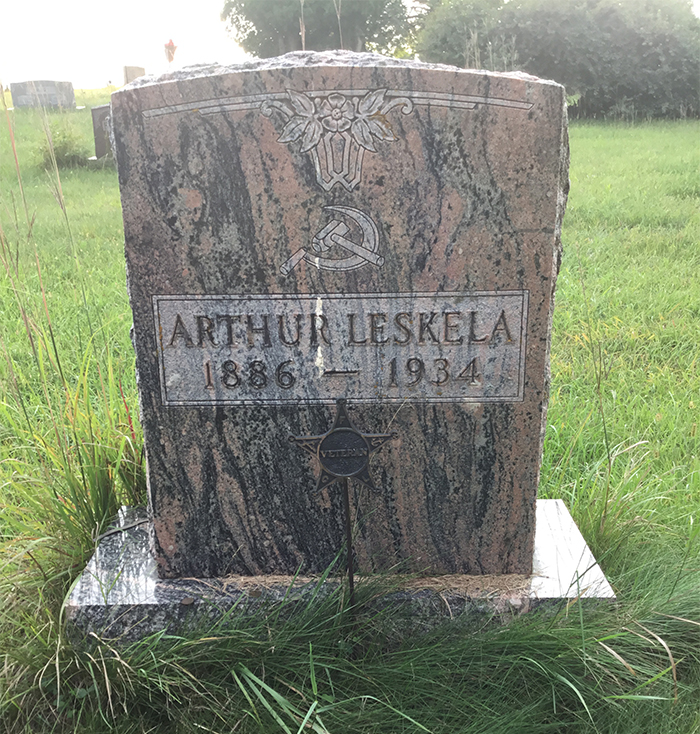 Leaf Lake Cemetery was established in 1882 by the Leaf Lake Evangelical Lutheran Church to serve the immediate area. The first burials were young brothers, Johannes and Theodore Kolleri, who died within a year of each other. This cemetery is known for its unique headstone of Arthur Leskela. He was a member of the local communist party of Heinola and was also a United States veteran. Like Prairie and Woodland cemeteries, Leaf Lake has predominantly Finnish burials, which number around 200.
Topelius Cemetery was established in the early 1900s. It was taken care of by the Topelius Lutheran Congregation which has since merged with Trinity Lutheran. Trinity is currently working on adopting the cemetery after the long-endeavoring cemetery association has dwindled in membership. I heard that the county wants a particular signature of a land owner/caretaker of the cemetery that they have on file. I can't remember the name, but it just so happens that the caretaker has been dead for many decades. I think their records need some updating!
There are many country cemeteries in Otter Tail County and countless others across the state. A nice Sunday drive can take you past idyllic, peaceful country cemeteries and you should stop for a visit next time you see one.