Lard the size of an egg
Published on November 22, 2022 at 3:09pm GMT+0000 | Author: chadkoenen
0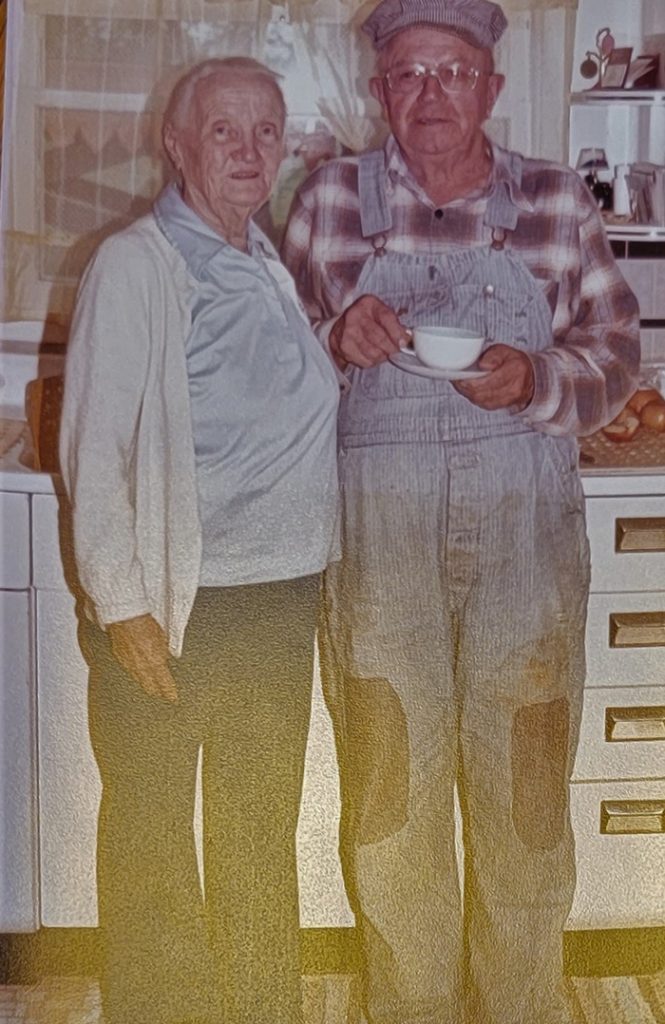 Lard the Size of an Egg is a series based on stories collected from New York Mills community members by historian and writer Chris Marcotte. Marcotte spent six weeks in September and October at the Cultural Center Retreat House working on her 1897 murder mystery. Most of the stories Marcotte compiled while there focus on a family recipe, a story that went with it, and a photograph. This is part two of the seven-part series which will run weekly through December 21.
Recipes and photos from the first story "Add Enough Flour Until the Dough Feels Right," can be seen on the New York Mills Cultural Arts Center website www.kulcher.org
After a rewarding career as a nursing home administrator and then director of a human services agency, native Sandi Bentley returned to the community of New York Mills in 2019. Sandi's paternal and maternal great-grandparents were born in Finland and immigrated in the late 1800s to Minnesota, so she is Finnish through and through. (Well, almost, there is a wee bit of Swede mixed in.) Therefore, it stands to reason that she should know how to make flatbread.
"It wasn't that I didn't want to learn," Sandi explained. "It's just that I went off to college in Moorhead and then on to full-time work in North Dakota, Iowa and Northern Minnesota that kept me busy." Making bread is a process that is spread over many hours, and the dough needs to be nurtured. Now that Sandi is retired, she's decided it's time to learn.
Sandi's story is about her grandmother, Hilma Fiskari, and the moment Sandi realized there was more to her grandma than meets the eye.
Hilma Eugenia was born in 1904. She was one of 13 children born to Matti and Alexandra Hentila, farmers in Deer Creek Township. When she was 19, Hilma married Harry Fiskari and they established a farm next door to Harry's home place. They continued to live on the farm into the late1980s. Sandi spent time with Grandpa and Grandma Fiskari, as she called them, every time she returned to New York Mills.
On one occasion Sandi was enjoying a slice of her Grandma Fiskari's flatbread, fresh out of the oven with butter—the best way to eat it. Sandi asked her grandma if she could watch her make flatbread the next time she came to visit.
Not only did Sandi learn the steps for making the Finnish staple, but she also learned something very special about Grandma Fiskari. "Actually, it was a major paradigm shift for me—the way I saw my grandma."
Here is Sandi's story
Grandma Fiskari's Flatbread Lesson and Then Some!
"My mom, Hazel, had twin brothers that were born in 1931. The story in the family was that when Stanley and Marvin were born, they were rather small, premature. To keep them warm, the oven would be on low and the oven door open. Each baby had his own small shoe box, and the boxes were set on the open door. I asked Grandma to tell me the details again as I wanted to write them in my journal. Then it occurred to me to ask if she knew she was having twins.
Grandma Fiskari smiled and got this pensive look on her face. "Yes, I knew I was having twins."
"What did Grandpa say when you told him?" I asked
"I didn't tell him." Her smile remained.
I about fell off my chair. I didn't see my grandma as an independent woman. I couldn't imagine that she would keep a secret from Grandpa. They did everything together. Grandma told me that she didn't tell him because she didn't want him to worry. It wasn't until the babies were delivered that my grandpa realized he was the father of twin boys. Both were healthy and became proud soldiers in the United States Army. Stanley lived to be seventy-four, and Marvin died just last year at the age of ninety.
I really appreciated learning something about my grandma that day. I saw her strength and her ability to 'carry on' bravely without putting 'worry' on Grandpa.
I also thought, 'Oh, she has stories to tell!' I was so taken by surprise by what she said that day. I wish I had sought out more stories from her. I should have asked Grandma for a lesson on making her amazing cinnamon rolls and perhaps another gem of a story would have surfaced.
However, I did write down every detail as I watched her make flatbread that day. That recipe is buried somewhere in my office. I have made it a goal this winter to find my notes. When I do make a batch of flatbread, I will use Grandma Fiskari's recipe and the bread board Grandpa made for me. It's the last bread board he made. It doesn't have the patina of 'oven rack marks' yet, but maybe it will one day."
Recipes and photos from the Lard the Size of an Egg stories can be seen on the New York Mills Cultural Arts Center website www.kulcher.org.