Legacy of the outdoors
Published on April 7, 2021 at 8:38pm GMT+0000 | Author: chadkoenen
0
By Tucker Henderson
Special to the Dispatch
Once you get to a certain skill level in family history research, you start to notice and find things that were formerly unknown. I guess I have achieved to that level, because while searching old newspapers online for any and all variations of "Piippo" (which is misspelled more often than not) I found a rich history of my great great grandfather and his brothers' hunting legacy.
Nowadays, hunting, trapping, and fishing are often treated as sports. You often hear how your cousin is waiting for the "big buck," or how your neighbor "only keeps the biggest fighters" when he goes fishing. Although this is not as true in this area especially for us rural residents, these activities are more likely to be attributed to a hobby or interest rather than necessity. For the pioneers and their children, these activities were crucial to their family's survival.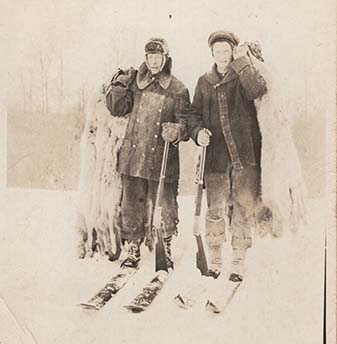 For a little back story my ancestors, Isak and Klaara Piippo, settled in section 34 of Otto Township, two miles west of Heinola. They had two daughters and six sons. One son passed away rather young, but the rest of them are recorded down in the papers of history as successful outdoorsmen.
The eldest son, John Piippo, lived about two and a half miles northeast of the family farm. The Pelican Rapids Press tells us that he caught three wolves in 1906 and another one in 1916, most likely in Otto Township. His son, John Jr., took a hunting trip with his uncles Henry and Oscar to Cook County in 1922. That was quite the excursion at that time. He moved to Svenson, Ore., around 1930 and passed away on a fishing trip on a tributary of the Columbia River.
The next oldest, Isaac Jr., doesn't have a large history of hunting that is written down, much like John. The only thing I could find was that he was paid $7.50 a piece for two wolf bounties in 1916 by Otter Tail County. They were also likely caught in Otto Township. He would often bring his grandchildren hunting or take them fishing on Rush Lake. Isaac and John both died in the great outdoors. Sadly, he tripped over a brush pile near the home place and his gun discharged, killing him instantly.
Their brother Paul had a happier and more successful record of his outdoor achievements. He was a trapper and moved to Minnie Township in Beltrami County, Minnesota around 1910. He has a long record of wolf bounties throughout the Beltrami Daily Journal's archived editions. One wolf bounty was claimed by him in either 1908 or 1909. In 1915, twelve wolves were caught and sold by him. This supplemented the family's income by $90, which was quite substantial in those days. At least four more were caught in the early months of 1916.
Paul was a successful trapper, but he was also a deer hunter. He was one of 300 lucky men to receive a deer hunter's license in Beltrami County in the fall of 1911. This $1 license was so sought after in Beltrami that all 300 ran out in short order. The County Auditor had to send for more and didn't receive the extras until after deer season had already started. A light snowfall made it easier to hunt their one allowed deer that year and many hunters were successful.
Henry was also a successful hunter and he was likely the most prolific hunter of the five brothers. He had a group of hunting buddies that would often go with him. Peter Bogden and Mervil Pikkaraine were among them. They would hunt ducks from dawn till dusk and would jump ponds around the area. Henry had a seven shot 12-gauge model 12 Winchester that he used and shot deer often 75-100 yards away. Henry's hunting buddy, Peter Bogden, was a pallbearer at his funeral in 1967.
Oscar, the youngest brother and my great great grandfather, was also an outdoorsman. He moved to Foxdale, Saskatchewan in 1913 to trap and build a house for his wife and daughter who remained near New York Mills. During a 1918 hunting trip in Canada, he and his neighbor Ernie Terrel had killed a combined total of 16 timber wolves. Once he had made some money farming, trapping, and had sold his land in Canada, he made his way back and settled on the east end of Rush Lake. The year after he returned he received $7.50 from Otter Tail County for a wolf bounty. In the fall of 1927 he killed four full grown wolves in three months.
These five brothers did a lot of hunting, fishing, and trapping in the early 1900s. This doesn't even come close to fully chronicling their exploits in the woods, prairie, streams, and lakes. In the early years this tradition was an important part of many rural dwellers' lives. Hunting and fishing helped feed the family while trapping supplemented their income. These traditions still live on in my family and in many families around the area. I hope this has given you a taste of the outdoors in earlier decades.